My Story
We all have wondered, at one time or another, "what happened to that guy" and "what's he doing now" when we hear an old Jam on the radio. Well, I'm that guy, and I'm still around. And as for what I've been doing since then;I've been doing what I love, making music, learning life lessons,
In a new city,with a new vibe,a new album, and a new name, NwCLR(NewColor)
They say you're only as good as your last efforts so I'm not feeling so bad, Then Smoove signed to EastWest Atlantic Records, released two singles"Meanwhile Back At The Ranch" climbed to 39 top 100 on Billboard and the second single "All about Her" peeking out at 28.
Unfortunately, after lackluster sales the negotiations for the second album fell thru.
Never afraid of an honest days work, I've taken all kinds of Jobs, all along plotting on a way to work myself back into the game,Like insurance man, sales,marketing,Computer IT,restaurant business,shoes sales, painting,delivery, courier work,sports store manager,I mean I could go on,but nothing felt as natural to me as my music. It wasn't something that I did,Music is who I am.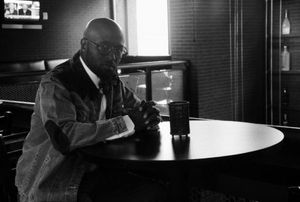 I knew if I was really gonna have a chance I would have to leave Connecticut onto a bigger market.I had a friend ,in Atlanta, he was doing pretty well in Real Estate at the time so he'd let me stay in his vacant homes before he finish the work on them and sold them.So I packed up and moved to Atlanta. I brought with me some experience that I learned along the way. I owned and ran a recording studio, I Partnered on an Indie Label,I worked as a writer under Industry producers Teddy Riley, Allstar, writing credits with SWV,Color me BAD, Chante Moore, Jazz Artist Ronny Jordan,Joe, Ray J, Show performances with Mary J Blige,R Kelly, Mint Condition, Rick Ross, just to name drop a few, thank you very much. I'm more ready now for the industry then I was then.
It took sometime for me to get settled but I found an amazing production team and with the sounds of CJ Williams, Xavier Fairley and the rest of the SSS Entertainment team. Then I reached out to a few connects I had back in New England,Bob Antoine a incredible writing force with TeamPen, and this brother duo team The Ryches who gave me such beautiful music to write to. I was blessed to find a home with an independent label by the name of SoNu Records, ran by a really good guy Tré Billups. He has a team strong family like vibe,with a strong foundation that truly felt like home. Just good people that believes in my talents and the music.
OK so now I have this introduction project "STILL" coming out  just to say hello again to my friends thats been down with me along the way and introduce myself to some new folks. I've been around for years but now it's time for a new sound, a new song in the game. A NWCLR!
I'm excited! So if you're looking for a Poster Child for Never giving up, truly facing adversity, grinding threw the growing pains of life! Look no further I'm your guy!You should never give up on your dreams; follow your passion because it's never too late to "live," BU. The sound is still  'SMOOVE' and I'm still dealing with a little "Ruffness" but tune into my LOVE,my LIFE, as I share some WORDS and MUSIC. I wrote a song about it, you wanna hear it,well here it goes.